Our Mission: Helping students succeed in a global community
We believe the best way to teach English is to fully immerse our students in the language and culture of an English-speaking country. We offer a wide range of English language courses for students of all levels and ages, and aim to provide a 'home away from home' for our students, by assisting them with airport transfers, accommodation and continuous support during their stay.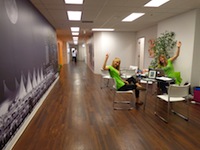 We believe that by being able to speak English, our students will broaden their horizons and give themselves a competitive edge. While studying in an English-speaking country we want our students to learn about the local culture and cultures of their international classmates. We believe that better cultural understanding brings people together and benefits all.
When our students leave us, we want them to take with them an improved level of English, a better understanding of the world, improved opportunities and memories and experiences they will never forget.